Hier nog een projectje dat ik enige tijd geleden heb gemaakt. Je zou het misschien niet zeggen maar de basis is een bestekbak van de AC-tion. Ik heb hem helemaal bekleed met Tim Holtz papier en tissuetape. Daarna geprobeerd te vullen met van alles en nog wat. De witte bloemen zijn gemaakt met lint, het zakhorloge is ook zelf gemaakt en de boekjes ook. Grote dank gaat uit naar Dora die me aan al deze ideeen heeft geholpen! En hij staat als het goed is nu te pronken bij Nicky.
Owja en de foto's zijn genomen onder een oranje zeil en hebben daarom een beetje gekke gloed, sorry!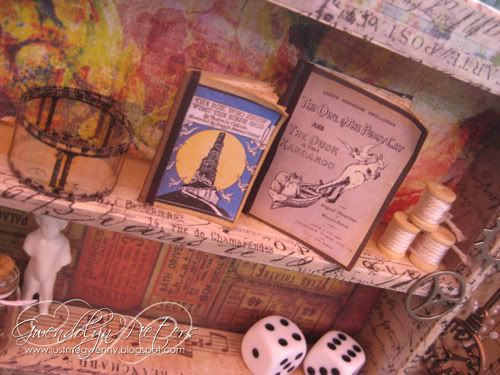 Here is a little project I made a little while ago as a present for Nicky. The base is a cutly tray from AC-tion. I decorated it with Tim Holtz paper en tissue tape. Then I tried to fill it with all kind of things. The white flowers are made from ribbon, the watch is made myself and the books as well. Thank you Dora for all your ideas!
Ow and the photo's are taken underneath a orange thing so I'm very sorry for the strange lightning.