Jaja ben weer teug van vakantie en heb helemaal niets gebroken! Het was echt heel erg leuk en heb heerlijk geskied. Heb eerlijk gezegd al weer behoefte aan vakantie want uitrusten doe je toch niet echt op een wintersportvakantie. Gelukkig duurt het niet zo lang voor ik weer een beetje vrij ben. Volgend weekend een heerlijk weekend scrappen met een hoop leuke meiden! Heb er superveel zin in!
Ik had voor mijn vakantie nog meegedaan aan een tweetal ATC swaps. Waarvan ik er nu een laat zien. Het thema was vogels. Ik heb drie series gemaakt en dus ook negen ATC's terug ontvangen. Ik ben er weer superblij mee! De swap was trouwens van het SA-forum.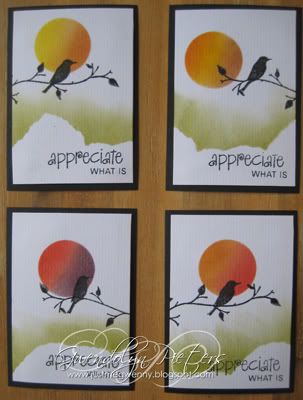 I'm back from holiday. It was so much fun! Skiing was so lovely and everything went very well. Except that I did not rest that much, but you never do on a skiing trip. Next weekend I have a scrapweekend with a lot of lovely grils so that means a extra two days off. I'm so looking forward to it!
Before my holiday I joined two swaps and I'm going to show you one now. The theme was birds and I made three series myself and got nine ATC's in return. Love them all! The swap was from the SA-forum.