Zo jammer! Een challenge blog die ik zelf ontzettend leuk en inspirerend vindt, die gaat ermee stoppen,
Challenges For You
. Ze gaan gelukkig nog wel door met een maandelijkse challenge, dus helemaal missen hoef ik ze niet! Ik doe natuurlijk mee met de laatste challenge, een schets. Ook weer met de restjes papier waar ik gisteren ook twee kaarten mee heb gemaakt. En toen hield ik nog wat papier over en heb nog een mini-kaartje en een cadeaukaart-houder gemaakt.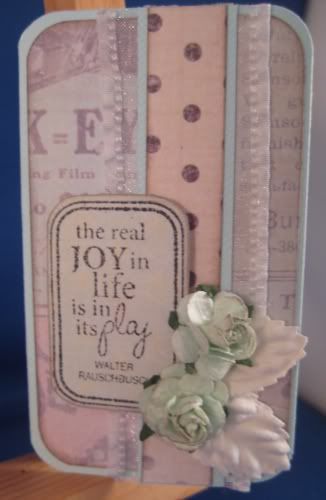 Verder wil ik jullie nog iets laten zien, ik heb van mijn lieve vriendin
Dora
een canvas gehad. Zo supermooi! Ik kon hem helaas niet eerder laten zien want het is een voorbeeld voor de challenge van
Let's get Shabby
. Lieve Dora, super bedankt! Hij is echt prachtig!
What a shame! A favorite challenge blog of mine is stopping, Challenges For You! I think this challenge blog is so inspiring. But luckily for me they will continue with a monthly challenge. So I don't have to miss them. I definitly wanted to join their final challenge, a sketch. I used the same papers as yesterday. After this card I still hade some left so I made also a mini-card and a giftcard-holder.
And I wanted to show you a gift I received from my dear friend Dora, a canvas Dora-style! I could not show you before because it was made for the challenge blog Let's get Shabby. Thanks Dora, I really love it!