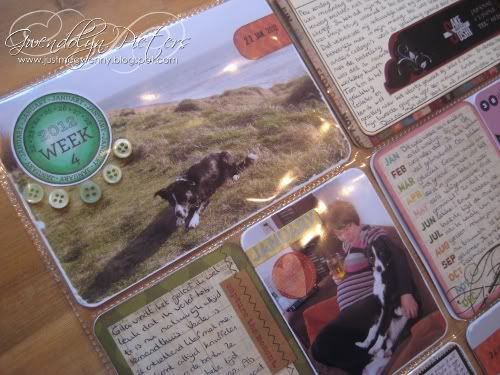 En daar ben ik weer met mijn nieuwe week voor Project Life. Het wordt echt steeds makkelijker! Deze keer heb ik gekozen voor handgeschreven journalling. Leek me wel eens leuk voor de afwisseling!
Verder gaat het hier prima. Slapen is nog steeds niet leuk, veel wakker, moeilijk draaien, kortom onrustige nachten. Vanmiddag weer op controle bij de verloskundige maar alles is nog rustig!

Ow en ik heb nog een serie van vier kaartjes gemaakt, beetje anders dan anders en misschien ietwat simpel. Maar ik vind ze zelf wel grappig!
And here I am with week 4 of Project Life, still on schedule! It is becoming more and more easier to make choiches. This time I chose to do the journalling by hand. Kind of fun some different ways of journalling.
I'm feeling very fine. The only problem is sleeping, don;t sleep that much, have to go to the toilet every hour and moving is hard! This afternoon check-up at the midwife.

Ow and I made a serie of four cards. They are a bit different and maybe somewhat simple, but I like them!